February 2015
Technology-driven Seedstock Marketing
Customer satisfaction is still No. 1 goal.


Seedstock Marketing 101
Merchandising professors offer tips to set your brand apart.


Print Marketing
Marketing workshop offered at NWSS gives insight to print marketing.


Web Marketing
Marketing workshop gives insight to print marketing.


Smart Marketing
Angus Productions Inc. ushers in new marketing tools worth attention.


Connect With Your Cattle Customers
Much of marketing is communication enhanced with a strategy.


Fit For The Ring
Passion becomes full-time profession.


Millennial Manpower
Mentored by experience, set free to embrace change and make waves, the millennial generation is managing 21st century cattle differently.


The Quick & the Deadly
A lethal bacteria lives in the gut of healthy animals and waits for its moment to strike.


Extra Feed Needed in Colder Weather
Livestock may need extra feed in colder weather to keep warm.


Supplementing Protein
Know when and how to supplement protein to help your cow herd perform.


Do My Cows Milk Too Much?
Use the Optimal Milk Module to find out.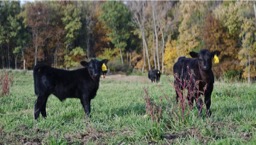 Get 'em Work-ready
Breeders identify their low-cost strategies for developing bulls.


A Reasoned Approach
Bull-development program allows bulls to show what their calves can achieve in the feedlot while still emphasizing the efficiency necessary for the cow herd.


Solid Footing
American Angus Association to start collecting hoof scores to generate expected progeny differences.


Brand Building for Individual Angus Producers
National Angus Convention & Trade Show workshops offer tips on marketing.


Buying and Selling Online
Online auction provides marketing alternative.


Add Value with Commercial Programs
Association provides Angus breeders customer-service options.


Practical Tips on Succession Planning
Business workshops at Angus Means Business National Convention & Trade Show share estate-planning and employee-engagement strategies.


Breed Improvement
Association staff share tips for how members can make the most of programs for advancing the breed.


Cattlemen to Consumers
Learn best management practices to reach CAB, and how CAB increases the value of registered-Angus cattle.


The Beef Business: It's Never Been Better
Additional consumers and new technology are making the future bright for beef.


Opportunity is Everywhere
Find your market and be the best.


Quality Genetics, Quality Eating Experience
The beef industry turned itself into a success story by focusing on quality.


Lessons Learned from the North Tower
NYFD Battalion Chief Richard Picciotto shares hair-raising and inspiring lessons from Sept. 11, 2001.


Rural Matters
There is power in individuals in rural areas working together.


Managing Reproduction
Symposium, speakers offer keys to successful estrus synchronization and AI.


Manage for Success
Success depends on careful planning and execution of reproductive management.


Environmental Impact
Environmental factors such as matching cows to their environment, heat stress and immunity to disease affect herd fertility.


AI Cost vs. Return
Researchers, producer analyze the costs, marketing opportunities of using synchronization and AI.


Use Technologies Wisely
Maximizing the potential of reproductive technologies means understanding what factors can impede success.


Male Fertility
Heat stress and disease can impact bull fertility.


Don't Stack Problems
Abnormal progeny and embryonic death are among the implications of improper management of known genetic anomalies.


Developing Replacements
Producers expanding their herds are encouraged to focus on heifer-development strategies to improve herd fertility.


Green Technology for Manure and More
A new technology exists to sterilize manure, make welding safer and faster, and to lower emissions from coal-burning utility plants.


CAB Carcass Weights Edge Higher
Brand adjusts spec to reflect today's market needs.


Mama Matters
Cow herd care impacts calves and their future calves.


Making Genetic Selections to Hit CAB Mark
CAB suggests EPD profiles based on herd composition.


An Addiction That Pays
First commercially traded Top Dollar Angus calves pay off with $67 per head premium.


The Wright Stuff
Cattleman differentiates his replacements.


Re-energizing the Force
High-energy presenters and showmanship help foodservice salespeople understand and sell high-quality beef.


Ag Math, Ag English, Ag Social Studies
She once turned her nose up at the smell of manure; now, this city girl advocates for agriculture, saying farmers and overalls are no longer synonymous.


Embrace the Unexpected
Being involved with the American Angus Auxiliary sparked a lifelong passion for Cortney Holshouser of Castalia, N.C.


Head Back to School
USDA program may offer niche beef market.


The Birthplace of Angus
Angus is gaining ground in the Scottish beef industry.


Quality Meat Scotland
QMS serves Scottish beef producers as a three-in-one program.


Beef Branded the Scottish Way
Quality Meat Scotland works to increase demand for Scottish beef.


EBVs Relatively New for Scottish Breeders
EBVs in the United Kingdom are part of the genetic evaluation system known as BreedPlan.


Performance Focus Generates Quick Success
Family's focus on performance records for the past 10 years garnered success.


Angus Production with a Twist of Scotch
Opportunities exist for growth and collaboration for U.S., Scottish breeders.


Finding the Fit: Cattle and the Forest Service
Hoping to establish trust and communication between ranchers and Forest Service, Idaho Farm Bureau organizes a cattle allotment range tour.


What Once Was Wild
A photographic reminder of the Old West.


Digital Walkthrough
Here's how to activate and navigate one of the newest features of the Angus Journal.


Extra Value in the Angus Journal Daily and EXTRA
Where do you get your Angus information?


The Faces of the American Angus Association, Part 1
Eleven men of vision have sat at the helm of the national Angus organization, helping lay the foundation of the American Angus Association we know today and what it will become in the new millennium.


The Faces of the American Angus Association, Part 2
Eleven men of vision have sat at the helm of the national Angus organization, helping lay the foundation of the American Angus Association we know today and what it will become in this millennium.