Iowa State Fair 4-H Angus Show
Aug. 15 • Des Moines • No. entries: 47 • Judge: Kenneth Geuns, East Lansing, Mich.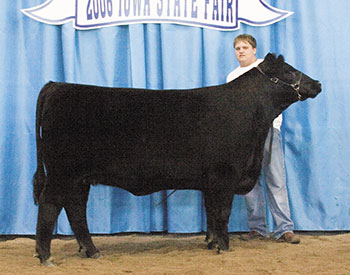 Grand champion female, SF Black Mischief TA 570, by Jordan Eggman, Creston. She's a Jan. 2005 daughter of SF Foresight.

Reserve grand champion female, Stream's Tyra 5320, by Taylor Etzel, Alburnett. She's a May 2005 daughter of Stream's Mr. Improvement 3113.