Louisiana Junior Angus Association
Welcome! See your officers and directors below, learn a little more about the history of the Junior Association, or skip down to our Junior Members List.
Louisiana Junior Angus Association Board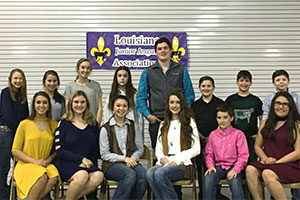 Members of the Louisiana Junior Angus Association board of directors met at the 2018 Louisiana Junior Angus Association Annual Banquet on Feb. 14 in Gonzales. Officers are, seated, from left, Kara LeBeouf, president; Lily Gisclair, vice president; Lani LeBeouf, second vice president; Olivia Shepherd, secretary; Austin Purpera, historian; and Baylie Romero, shadow historian. Directors are, standing from left, Mackenzie Triche and Emma Olsen, both of Saint Francisville; Emma Sarradet, Addis; Miranda Graves, Abita Springs; Payton Shepherd, Lake Charles; Luke Gisclair, Longville; Christian Corsentino, Denham Springs; and John Benoit III, Addis.
History of the Louisiana Junior Angus Association
The Louisiana Angus Association board of directors approved sponsorship of a junior association on January 13, 1964. The Louisiana Junior Angus Association was organized on June 6, 1964, when the juniors were invited to attend and participate in the annual field day, which in 1964 was held at the Dr. A.V. Young farm in Grand Cane, Louisiana.
The following officers were elected to serve the first year: Lee Walker, Lake Charles, president; Chris Loupe, Zwolle, 1st vice president; Carolyn Hunter, Dubach, 2nd vice president; Beverly Means, Gloster, secretary; Gerald L. Woods, treasurer; and Debbie Hays, Ruston, reporter. The advisor was Dr. L. H. Pease, Lafayette.
In 1965 the juniors held four field days, each in a different part of the state, so that new members could be recruited. These were held at Baton Rouge, Elton, Ruston, and Providence. As the association grew, one annual field day was held in co-sponsorship with the adult association. The annual field day is held in June and rotates to a different part of the state each year. The field day and junior heifer show are combined.
In 1967, Jimmie Lee Fontenot, Vinton, and Diane Powell, Coushatta, were selected to represent Louisiana for the first time in the National Angus Showmanship contest. The first Louisiana Angus Queen, Mary Myers, Jennings, was crowned in 1972 during the field day in Ruston. In 1977 a major Angus show was brought to the deep South when the Louisiana juniors co-hosted the South Central Regional Heifer Show in Shreveport. Mark Wyble, Opelousas, was elected to serve on the first National Junior Angus Board in 1980. In 1982 the Louisiana Junior Angus advisors, Mr. and Mrs. Paul St. Blanc, Charenton, were named "Junior Angus Advisors of the Year" during the national show in Milwaukee, Wisconsin. Also in 1982, the Louisiana Junior Angus Association hosted the Dixie Junior Angus Leadership Conference in Monroe, Louisiana. In 1986, Caliste and Sandy Rougeau became Junior Advisors, and through their efforts the LJAA 25th year celebration at the 1989 Regional Preview Show in Shreveport was a huge success.
Harriett and Carroll Boudreaux took over as advisors in 1995. They were responsible for an excellent Regional Preview Show in 1998 and many national winners. In 2000, Leslie and Brian Kennedy took over as Junior Advisors, and were responsible for continued growth and success of the organization.
In 2001, Lana Myers was elected as the first of three consecutive NJAA Board of Directors from Louisiana and was Vice Chairman. Jennifer Ourso served her term on the NJAA Board as Chairman from 2003-2005. Kristen Oaks followed her as a NJAA Director from 2005-2007 as communications director.
Eddie and Patti Hymel were selected as Junior Advisors in 2003, and continued to serve in that capacity until 2014. Membership and participation thrived under their direction. Patti was the chairman for the 2011 Eastern Regional Junior Show in West Monroe. Through their guidance, the junior association has remained strong and an integral part of the Angus breed in Louisiana.  The National Junior Angus Association recognized Eddie and Patti with the Advisors of the Year award at the 2012 NJAS in Louisville, KY.  The Hymels co-advised with Bridgett and Corey Gisclair in 2013 and resigned in 2014, at which time the Bridgett and Corey Gisclair continued to lead the juniors until June 2015 when Lana Myers was named Advisor.
2017 LJAA Officers

2017 LJAA Directors

Advisor
Lana Myers
lanalgm@aol.com

President
Olivia Shepherd

1st Vice President
Gracie Romero

2nd Vice President
Kara LeBeouf

Treasurer
John Benoit III

Historian
Clayton Daniel

Shadow Historian
Austin Purpera

Northeast
Faith Guice

Southeast
Andrew Graves
Miranda Graves

Southwest
Luke Gisclair
Lani LeBeouf

Central
Jacy Jones

South Central
Clayton Daniel

Acadiana
Emma Sarradet
Baylie Romero

Royalty

2016 Queen
Faith Guice

2016 Princess
Lani LeBeouf

Showmanship Contestants:
Selected at Field day
---
Junior Membership
Welcome to our updated junior members directory!
All members are sorted by their last names. Please choose a letter to view current members.
---