November 2015
President's Perspective
American Angus Association President Steve Olson shares his perspective about serving on the Board of Directors, including what he sees as the opportunities and challenges facing the breed.


Introducing Angus.Media
The new Angus Media website is your ultimate source for Angus news and marketing services.


Teichert's Straight Talk
As the ag industry prepares for a leveling-out on record-high calf prices, longtime ranch manager Burke Teichert shares his playbook for sustainable ranching.


Beef Up Stocker Management
Stocker cattle management should concentrate on cattle health.


Mineral Needs Change Throughout the Year
Management tips to help producers maintain and potentially increase production in the cow herd.


What's on the Inside Counts
Test forages to meet cattle nutrition needs.


Safety First
When Doug and Mary Ellen Hicks designed the new working facility at Abraham Baldwin Agricultural College, they knew student and cattle safety had to be their priority.


Hormone Balance
Successful breeding program begins with understanding hormones and how they affect the estrous cycle.


Management Considerations to Control Estrus
University of Missouri animal scientist gives recommendations to improve fixed-time artificial insemination.


Planning Assistance
Improve protocol compliance with Estrus Synchronization Planner.


Recommended Synchronization Protocols
Beef Cow Protocols - 2015


Product Availability and Selection
Challenges to selection of products to implement breeding management protocols include expensive approval process.


Heifer Development: Same Challenges, More Options
Producing replacement females is one of the most important and costly enterprises for cow-calf operations.


Fetal Programming Effects
Calf performance is directly linked to dam's gestational nutrition.


It's Dry Somewhere
Is drought a devastating natural event, or a wake-up call for better cattle management?


Prebreeding Strategies for Females
Selection suggestions offered to maximize breeding success.


Handle with Care
Consider these management and insemination factors affecting fertilization.


Get the Full Evaluation
Male breeding soundness exams should include more than a semen test.


Economic Benefit of AI
Research shows average of $49 benefit per cow exposed to fixed-time AI.


Manage the Details
Management factors affect the efficiency of reproductive technologies.


Embryo Transfer: You Can Do It
ET specialist shares what producers can expect and tips for success when using embryo transfer.


Applying Reproductive Technologies
Producer panel explains how reproductive technologies help their operation.


Who Needs Cows?
Colorado State University's George Seidel overviews a beef production system for heifers only.


Preventing Foothill Abortion
Veterinarian reveals progress in development and testing of a vaccine to prevent epizootic bovine abortion.


Sex-sorted vs. Conventional Semen
Scientist explains advances in gender-selected semen resulting in conception rates near that of conventional semen.


Computer Matings
Software helps target multiple end uses in beef cattle breeding programs.


Delivering Genomics Through ART
Assisted reproductive technologies help deliver high-quality genetics.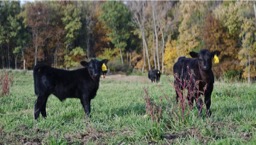 Genotyping Embryos
Reproductive physiologist shares progress scientists have made in genotyping in vitro-produced embryos.


Genetic Gain Full Throttle
Accelerating genetic improvement through technology.


Growing Beef in 'The Good Life' State
Family uses carcass data to make informed decisions.


Decisions, Decisions
Nebraska feedlot specialist looks at shifting economics of feedstuffs.


From Straw to Shade
Preparation helps mitigate large temperature swings for cattle comfort.


Worth the Wait
Thousands line up for Nebraska State Fair 'Beef Pit.'


A Taste for Quality
Angus Foundation-funded research uncovers positive palatability ratings for branded beef.


Engage in the Conversation
Consumers want, and need, to hear your sustainability story.


Texas Beef Checkoff Proves Successful in First Year
Funds build consumer confidence in beef and provide local producer education.


Economics and the Future of the Beef Industry
Do we need an alternative production model?


Time to Eliminate Deaths, Injuries from Silage
Resources are available for improving silage safety.


A Noble Anniversary
Noble Foundation celebrates 70th anniversary.


Te Mania Angus
Breeders gain success through intensive knowledge gathering.


Angus Down Under
Angus Society of Australia offers resources to help breeders with unique challenges and opportunities.


Time for Leadership
If you think management and leadership are one and the same, think again.


Start with the End Goal in Mind
A balanced nutrition program for show cattle is all about results.